The Archaeological Collection of Kifissia was inaugurated in 2004 and was implemented with the cooperation of the Municipality of Kifissia and the Society of Friends of the Archaeological Museum of Kifissia (EFAMK).
The design of the exhibition resulted from the need to preserve and display a large number of finds that have been revealed in recent years both on private plots in Kifissia and during the execution of public works in the northern suburbs. The main aim of the exhibition was the emergence of the ancient municipalities of North Attica from the Geometric to the Roman period.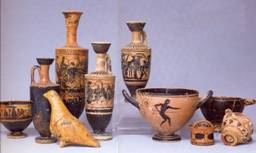 The collection features sculptures mainly from the Roman period (2nd century AD). Among these, one can admire the seated childish figure, a sculptured figure of a child on a dolphin, the tombstone of Archestratus dating back to 340/330 BC, as well as various marble sculptures and ceramic finds.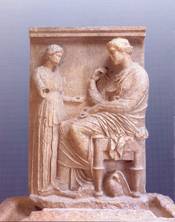 The various finds of Kifissia include burial ensembles found in the excavation of the public cemetery of the ancient municipality of Kifissia, which was in use from the 8th century BC to the 4th century AD. Important finds of Archaic, Classical, Hellenistic and Roman times along with rich photographic material complete the picture of the social and cultural life of the region.