The Municipality of Kifissia, based on the KALLIKRATIS Programme (law 3852/2010), currently consists of three Municipal Units (Kifissia, Ν. Erytrhaia and Ekali). The area of the Municipality is 36,804 acres and its seat is Kifissia.
POSITION & ROLE OF THE MUNICIPALITY IN THE REGIONAL UNIT & IN THE REGION
The Regional Unit of the Northern Sector of Athens is an agglomeration of twelve municipalities with Kifissia, as its head, Maroussi as the urban center and the regional municipalities of Chalandri, Psychiko, Vrilissia, Agia Paraskevi, Papagou, Irakleio,  Nea Ionia, Penteli, Pefki and Metamorfosi, which extend to the northeastern part of the Attica basin.
The Northern Sector of Athens has a population of 591,680 inhabitants and a density of 4,263.22 inhabitants per km2. Its area is 138.78 km2.
The agglomeration is bordered by the Central Sector of Athens with Athens as its head and the Regional Unit of Eastern Attica with Pallini as its head.
The road ring of the agglomeration is formed by the Athens-Lamia National Road to the west, the provincial road of Dionysos to the north, Marathonos Avenue and the Ymittos Ring to the east and the Tourkovounia Ring to the south.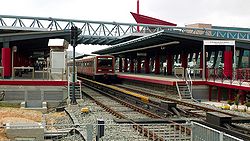 The Athens-Piraeus Electric Railways (ISAP) line of the Athens Metro passes through the Northern Sector of Athens and branches with the suburban railway. Kifissia is the terminal station with a supra-local importance. The agglomeration is served by the green and blue metro line, as well as by the suburban railway.